CNC Machining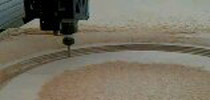 With our CNC machine, we can produce a variety of parts for your projects.
Cabinet parts, Dovetail drawers, Rabbet drawers, 2 Piece Doors, and custom shaping and joinery of furniture elements.
We will need CAD files to work with our CNC; if you do not have any, we can produce them for you.
Finishing Services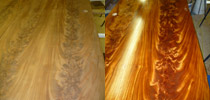 We offer a range of finishing options.
For solvent lacquers, we use Becker Acroma products: (Clear) Reliant lacquer and (Opaque) Matador.
For waterbourne, we have had great results with M.L. Campbells' post catalyzed product.