We are custom builders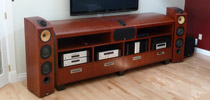 Because we are a custom shop, we are able to take on any project, without needing to compromise. Conventional cabinet dimensions work - for the most part. When they don't, we can customize sizes to accomodate your needs.
To many of our clients symmetry is an important element of design; we build to the millimeter, and thus, are able to fill odd sized rooms with well balanced cabinets. This is difficult to do when cabinets are sized to the nearest 3" mark.
We couple cutting edge technology with traditional woodworking techniques to ensure your project is well made.
We offer design services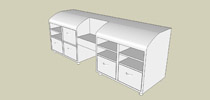 Good design is very important, especially because we build things to last.
We have a very organic approach to design. Our job is not to tell you what you want, but rather, we present you with concepts that evolve into the final product.
Function and form must meld together, and because we are involved in every stage of your project - from initial sketches to the final installation, we can control both the fit and finish as well as ensure that everything works well together.
3D Computer renderings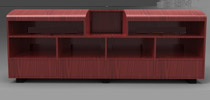 Our building process involves creating 3D designs.
As a result, we have files that we can achieve photorealistic renderings of your project.
These are invaluable tools for finalizing the design. Traditional 2D shop drawings are not good for visualizing how the space will look - or function. These renders provide our clients with the opportunity to visualize different colours and surfaces before we cut wood.